WELCOME TO THE MEDICAL BOOK CENTRE ONLINE
THE MEDICAL BOOKS YOU NEED AT THE PRICES YOU WANT!
Join the MBC Green Card program and save 15% when you shop with us. A one-off fee of $20 ($10 for students) puts the Green Card in your pocket.

Store hours & Book collection
Tue - Thurs
12noon-6pm
Fri, Sat, Sun, Mon
Closed
Web Orders processed daily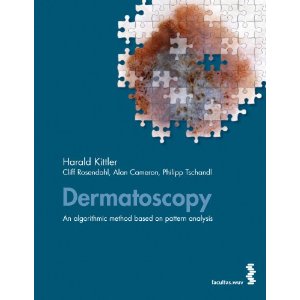 Dermatoscopy
An algorithmic method based on pattern analysis
Harald Kittler, Cliff Rosendahl, Alan Cameron, Philipp Tschandl
Description
 Dermatoscopy has undoubtedly advanced diagnostic accuracy of pigmented skin lesions. Pattern analysis is the most powerful of current methods for dermatoscopic diagnosis, but it does present significant challenges to the learning dermatoscopist. We present here an algorithmic method, derived from pattern analysis, based on logical analysis of simply defined geometric features. We consider that this presents fewer barriers to the beginner, but retains sufficient power for the most experienced user. Most importantly, it provides a better framework for elevating experience beyond mere anecdote, allowing experience to lead to true expertise
Place your order today!
SHOPPING AT MBC
The Medical Book Centre stocks a comprehensive range of medical and allied health titles, textbooks, CD-ROMs, and the latest releases from Australia and overseas. The Medical Book Centre also carries a large range of medical equipment including stethoscopes, sphygmomanometers and diagnostic instruments, as well as a colourful collection of medical charts, models, study aids, patient-education resources, a selection of medically-themed giftware, health products, and some fun novelty items.
OUR SERVICE
The MBC service is fast, efficient and friendly with an emphasis on personalized, high-quality customer service. The Medical Book Centre offers a range of services to suit your particular needs, including:
Competitive pricing on all orders.
Prompt and efficient delivery of books throughout Australia.
Prompt quotes and other information (availability, new editions, book descriptions, etc) by phone, fax or email.
A complete range of shopping options.
We extend a very warm invitation to you to visit our Milton store where you can browse at your leisure. Customers unable to visit the Centre in person can access every item in our Milton shop via this website. Alternatively, you may prefer to place your order with us by phone, fax, or (e)mail.
We also offer our customers a free, world-wide book search service for tracking down those hard-to-find titles. Please Contact Us to take advantage of this service.
GENERAL INTEREST
The Medical Book Centre has a large range of informative books and reference material suitable for people with a non-medical background who wish to know more about a particular medical topic. This comprehensive collection of titles is available in our General Interest section.
HOW TO FIND US
Shopping at the Medical Book Centre is as easy as MBC. The Centre is conveniently located at 27 Douglas Street, Milton, just off Park Road. We are only a few minutes walk from the Milton train station and easily accessed using public transport. Off-street customer parking is available right outside our door.
OPENING HOURS
The shop hours for book collection and browsing are Tuesday, Wednesday and Thursday 12noon - 6pm. We are closed otherwise but please call if you are unable to visit the shop during opening hours. We are happy to arrange a time to suit for you to come in to the shop.
IN SICKNESS AND IN HEALTH...
The Medical Centre is here to help. If you have any questions, comments, or information you'd like to share, please don't hesitate to contact us. We'd love to hear from you.
MEDICAL BOOK CENTRE PTY LTD (ACN 010 655 633)
Unit B, 27 Douglas St Milton QLD 4064
PHONE (07) 3367 0616;
FAX (07) 3367 0222
EMAILmanager@medicalbookcentre.com.au